Farewell, Millbrook Round Table
Walking into the diner yesterday, I glanced at the honor box containing our village newspaper, The Millbrook Round Table, and was shocked to read the following headline:
Round Table Publishes Last Issue, Closes Its Doors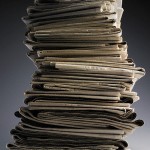 I was numb as I went inside and had my two cups of black coffee. Part of me wished I still drank, so I could go pick up a pint of Irish whiskey and lace my coffee with it.
To me, a guy whose first job out of college was as the lone reporter for the Round Table, reading that the paper had gone under was like hearing that an old friend—a friend you hadn't spoken to in years—had died suddenly, and penniless. But looking into your friend's death, you discover that it actually came after a long illness, and in the case of my old friend, it was an illness caused by three factors:
The Internet.
The World Economy.
The fact that nobody reads newspapers anymore (see #1).
Sadly, the Millbrook Round Table was just one of scores of local newspapers forced to close down, because the holding company of many of them, Journal Register Co., defaulted on loans and was de-listed from the New York Stock Exchange. However, despite the sympathy I feel for all of those reporters, editors, photographers, graphic designers, proofreaders, ad salespeople and delivery people, no one can say we didn't see this coming. The truth is, newspapers have been an antiquated technology, and try as they might, they haven't been able to find a new business model that would enable them to be profitable in the post-paper world of instant, online publishing.
But this piece isn't meant to be a dirge to newspapers in general; it's a dirge to one newspaper I knew well and loved because, for a brief time, I was a part of its 117-year history. In fact, I count myself lucky to have been the reporter for the Round Table in 1992, during the centennial of both the paper and Millbrook itself.
I was home on spring break and hadn't even graduated yet when then Executive Editor Diane Pineiro-Zucker and Managing Editor Gene Lomoriello interviewed me for the reporter job. As a philosophy major, I was an anomaly in the newspaper world. I didn't know the difference between a nutgraph and an inverted pyramid, but they appreciated my ability to write clearly and concisely, as well as my desire for precision and exactitude in sentences, so they hired me. I went back to school the following week, took my final exams and began on the newspaper two weeks later.
Despite its small size, the paper was technologically advanced, using networked Apple Macintoshes throughout the office for reporting, editing and layout. The publishers at that time, Hamilton and Helen Meserve, were intelligent, cultured Manhattanites who had retired from big city finance to the Millbrook countryside, and they ran the paper judiciously and creatively, going so far as to buy a boarding house for their reporters to balance the low salary. Hamilton Meserve was a serious man and from what I remember an avid trout fisherman, and he was also the son of the Wicked Witch of the West (a.k.a. Margaret Hamilton).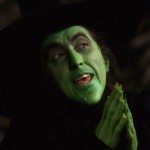 Every Tuesday afternoon, when we were on deadline for the weekly edition, I would pick up the phone, hit the "INTERCOM—ALL" button, and screech (in my best Wicked Witch / Miss Gulch impersonation, which was pretty damn good), "I'LL GET YOU, MY PRETTY! AND YOUR LITTLE DOG, TOO!" Once, Mr. Meserve was there and no doubt heard me. But he never fired me. Either he appreciated my brash, unbridled, manic energy, or I was just too damn talented to fire. I like to think it was both.
As a reporter in the country, I didn't get many of what you'd call "sizzling" news stories. Most of the time, my job as the small-town reporter was to serve as chronicler of the community's events: fairs, pageants, horse shows, auctions, art expos, book sales, library drives, ball games, village council meetings, and profiles of both local celebrities and regular joes.
Still, there are several stories that have stayed in my mind, some of which I believe made a difference. I investigated a development company on their plans for restoring the abandoned Bennett College site in Millbrook, and I discovered that they hadn't done any of the Florida building projects they claimed. I interviewed a Silver Star winner—a bombadier over North Africa in WWII—who told me he could make out Patton's shiny helmet from 30,000 feet. And in one of my first stories at the paper, I reported on a German Shepherd that tore a rabid raccoon to pieces. Gene questioned its newsworthiness, but at the time rabies cases were springing up all over New York and Connecticut, and folks wanted the rabid raccoons dead. The dog's name was (I'm not kidding) Rocky, and shortly after my story and his photo appeared in the paper, he became a local hero.
And then there were the humorous moments. Like the time I went to a Village Board meeting for the annual budget review and one of the Village trustees complained about a number of the items, until the Village Clerk finally said, "Dammit, R–, you're looking at last year's budget!" Then there was the time I was covering the Memorial Day parade and the police chief (who was directing traffic in mirrored sunglasses) called me over, looked around and urged me to poke him in the chest. So I did, and he said, "Yeah…bulletproof. Stop a goddamn .357 point-blank, this son-of-a-bitch will."
Or take the time I wrote about an event from 1892 in my weekly "Reporter's Notebook" column. I made fun of a news item from 100 years before, when a local citizen had, "lost control of his horse, letting it ride up on the Village green." In response I wrote, "Sounds like somebody was dipping a bit too much into the sauce." Well…the day the paper came out, a woman (who, ironically, worked at the Round Table) confronted me, demanding an apology because her grandfather was the one I'd inadvertently written about. Unfortunately for me, Millbrook had, and still has, a predilection for producing centenarians.
Without question, I'm pleased that I began my professional writing career in journalism—the same way two of my idols got their start: Mark Twain and Ernest Hemingway. It was Hemingway who once said, "Newspaper work will not harm a young writer and could help him if he gets out of it in time." I feel a pang of regret that most young people coming up today won't get the same opportunities to hone their writing skills while being paid for their words. In essence a paid apprenticeship, newspaper work taught me a lot about writing and work in general.
I learned the importance of writing short declarative sentences. I learned the role of commas in creating nonrestrictive clauses. I learned that nouns and verbs are the meat of writing and that whenever possible you should eliminate adjectives and adverbs. I learned how to produce under time pressure.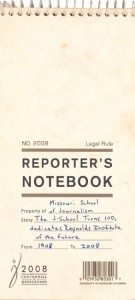 I learned that spelling DOES matter—particularly the spellings of people's names. I learned to use semicolons sparingly. I learned how to write a lead. I learned how to spot a story, how to notice details, how to take notes. I developed close to a phonographic memory, especially when it comes to dialogue—the diction, accents and rhythms of people's speech. I learned how to LISTEN, and that often the best thing you can do as a reporter is to keep quiet and let the other person talk. I learned the value of preparation: having your questions planned in advance, knowing you could always stray from the agenda if you wanted to. I learned how critical it was to be fair and accurate in your reporting—in any form of writing, I believe—if you wanted your sources to continue being your sources in the future, and if you wanted to maintain a reputation for integrity.
Most important of all, writing for the Round Table day in and day out built up what I think of as my total word count, or the amount of overall experience I have with words. George Bernard Shaw once wrote that a writer shouldn't expect to be paid for his own work (something that wasn't journalism) until he has written a million words. That's right—a MILLION. What the Round Table did for me, more than anything else, was give me a head start on this million-word journey, so that by the time I finished there about a year later, I had written, by my estimate, at least 900,000 words.
Coincidentally, last weekend I was going through old boxes of letters when I came upon several letters of praise from former subjects of Round Table articles. This serendipitous find spurred me to unzip my leather portfolio and browse my clips from those days, almost 20 years ago. My writing is sharper and much more felicitous now than it was then, but even then it had that spark—a love of language and a desire to get it right.
After The Millbrook Round Table I wrote for the area's daily newspaper, The Poughkeepsie Journal, and while I learned a lot from my editor, Stu Shinske, and while the challenge of meeting a daily deadline was exciting, the Round Table had taken my journalism virginity, so it would always be first in my heart. I can still remember waking up at 6:00 am to eat breakfast with my grandparents, then driving in a rush into Millbrook to be the first one in the office, to sit down at my desk with the cool, lilac-tinged breeze wafting in the window, sipping my coffee and starting to type.
I'm glad I got to experience this piece of Americana before it died, if only for a short time. I loved being a newspaperman, and I'm proud to say I was one.