1,000 Mysteries and the Ideal Reader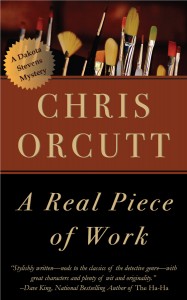 A common piece of advice given to writers is to envision your ideal reader and write your book to that person. And although I didn't do that when I wrote A Real Piece of Work (I wrote it for myself first and an audience second), I did have in mind one reader whose attention and respect I hoped to gain: my great and generous friend, Jason Scott.
Recently, after some mild prodding on my part, Jason posted a review of the book on Amazon, declaring that "I for one hope that the series goes on forever," and making other lush and laudatory comments about my book. And I'm grateful for all of his praise.
But the thing I'm proudest about has to do with a critical fact about himself that Jason left out. Jason, you see, has read over 1,000 mysteries and thrillers. Think about that: a THOUSAND books in two closely-related genres.
He's the only person I know who has read every single one of Agatha Christie's novels, all of Dick Francis's work, all of Chandler, Parker, MacDonald (Ross & John D.), Cain, Le Carré, Fleming, Ludlum, Westlake, Block, Rex Stout (Nero Wolfe), Sir Arthur Conan Doyle (Sherlock Holmes), and many more. Even I, a writer of this stuff, can't make this claim.
He's read over 1,000 mysteries and thrillers by those esteemed authors, and he now ranks my novel, A Real Piece of Work, among the best of them. I can't describe what an honor this is.
But what makes his review and assessment of my book so meaningful to me is that I know he doesn't give idle praise. Jason doesn't do quid pro quo.
If he likes a thing, he says he likes it, and it doesn't matter who created it; however, if he dislikes a thing, he can be brutal in his criticisms, and again it doesn't matter who created the thing. For example, one of the subjects for which he became semi-notorious is Wikipedia, and his speech "The Great Failure of Wikipedia," while perhaps not unassailable in terms of its logic, does a masterful job of raising questions about the information giant—questions that, at the time (2006), no one else was asking.
Obviously I wrote the novel hoping that all mystery readers would love it. But knowing that's an impossibility, I'll settle for the praise and respect of the guy who's read over 1,000 of them.
Here, by the way, in case you're curious, is Jason's review of A Real Piece of Work.