Writing vs. Self-Promotion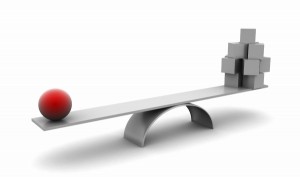 The big problem facing writers today is finding a balance between writing and self-promotion.
I'm currently doing a free promotion of my Kindle mystery novel, A Real Piece of Work, and I've discovered that it's easy for tweeting, posting to Facebook, and blogging and the like to take over your life. Meanwhile, in my own case, I think if given a choice between writing and promotion, I'd choose writing every time.
To my thinking, the best way for a writer to get noticed is over time by producing high quality work, and if he is spending all of his time promoting (a realm that thrives on instant feedback), then he isn't spending the requisite time on his craft (a realm that thrives on quiet and reflection).
If the writer doesn't want to focus on the writing, he needs to ask himself whether he really loves the process of writing or if he does it so he can be known as an author.
The greatest rewards truly are in the process of doing it.
In her book The Writing Life, Annie Dillard tells the story of a student writer who asks his writing mentor if he could be a writer, too. The mentor says, "I don't know. Do you like sentences?" Ultimately all of this writing stuff comes down to sentences. I happen to love them.
I do this because I can't not do it. I am compelled to write every day, and have been for over 20 years.
Every writer needs to ask herself why she is doing this. If it's to sell a ton of books, that's great, and greater still if she is being honest with herself. If it's to become the best writer she possibly can, that's great, too, so long as she understands that she won't necessarily become a bestselling author. I think it is nearly impossible to achieve an equal balance between writing and promotion, so each writer needs to decide where she wants to focus.
NOTE: This piece came out of a reply I made to a thought-provoking article by Rachel Abbott entitled, "Using Twitter: Are You a Writer, a Brand, or a Salesman?" You can read her original article here.