Hemingway Had the Pilar, I Have Golf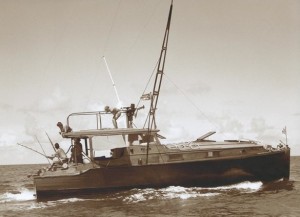 Every morning while living in Key West and Cuba, Ernest Hemingway rose early to write, and every afternoon he went out cruising and fishing on his yacht, Pilar. There are many articles out there, including this one and this one, that detail what Hemingway did during his afternoons on the Pilar, as well as how much the boat meant to him, so I won't discuss any of that here.
I only mention the Pilar because as much as Hemingway loved writing, he needed an activity that took his mind off it. Spending hours cruising and fishing (and hunting German subs during WWII) enabled him to forget his writing and enjoy himself for a while, so he could return to his work the next day refreshed.
As a boy I loved to fish, but somewhere along the way I developed an aversion to handling slimy, squirmy things, so in the last 25 years I've fished maybe twice.
Instead of fishing, for relaxation I've turned to another classic obsession: golf. While I've taken a few lessons and read several books on the game, I'm only an average player, typically shooting between 100 and 110 (par is 72) and occasionally—if I'm on fire—in the low 90s.
But most of the time I don't even keep score. I play for the Zen aspect of the game. For those few hours while I'm playing, nothing else exists.
All worries about characters and plot and reviews and fan mail and royalties and where in Europe I want to travel and whether the second book in my detective series will be as good as the first and my friends' and relatives' health and why literary journals tell me they enjoy my stories but continue to reject them and bills and the incongruously gorgeous postal worker I chatted with that morning and what I'll write next and what I'll talk about at the party I was invited to that weekend and whether I'll ever amount to anything as a writer—all of these worries fall away while I'm playing golf, leaving just me, the course, and the ball.
There's so much I love about the game, I can't possibly express it all here. Nor do I want to. Someday I want to write a novel—or at least a story—about my love of golf, so I have to keep a certain amount of my passion to myself. If I write it all now, there won't be any creative tension to write more in the future. I will share one observation, though: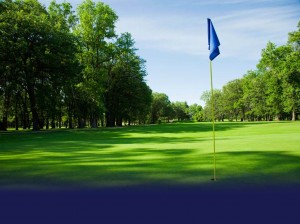 Besides the quiet and the solitude when I'm able to play alone, I love the panoply of green on golf courses. As James Kaplan notes in his short story "The Mower," contrary to what most people think, there are about a thousand shades of green on a golf course: green-green, yellow-green, blue-green, orange-green, black-green, gray-green and so on.
Walking a course forces me to see—really see—the world in greater detail, which is exactly what a writer needs. Golf gets me out from behind a desk and actually seeing things, not thinking about them, mulling them. It reminds me of why I write in the first place: to attempt to capture some of the beauty and poignancy of moments in the world.