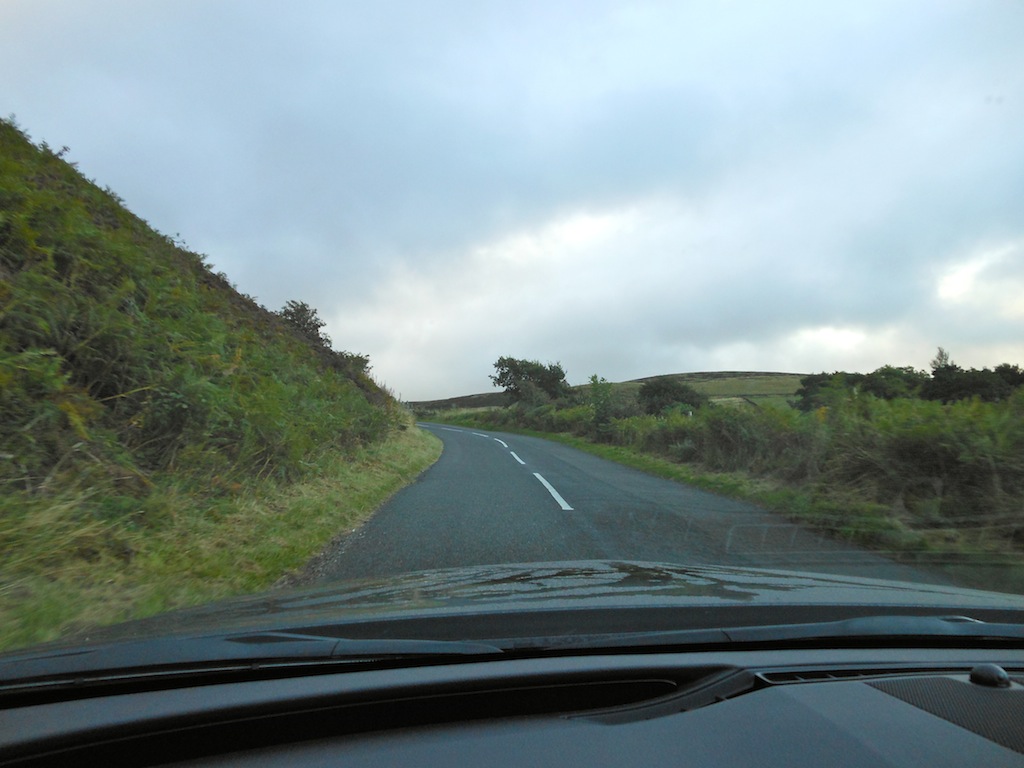 Driving in the UK: A Survival Guide for Americans
In June 2013, Alexas and I decided to use the earnings from my books to take another Big Trip. I say another Big Trip because in Sept. 2012 we used the first half of my earnings to spend two weeks in Paris and Normandy.
For this second trip, we debated between the UK, Italy, Paris again, and, briefly, Egypt. But there was never really any contest: we both wanted to see London and castles and all things Jane Austen, and I wanted to see Sherlock Holmes locations and the land of my ancestors—the Scottish Highlands.
So we decided on a trip to the UK, and Alexas began creating a budget and making inquiries.
Then, in July, we watched two motorcycle-adventure travel programs: Long Way Round and Long Way Down, starring Ewan McGregor of Star Wars fame and his friend, Charley Boorman. Our original plan for the UK trip was to fly to London and take the train to all of the other places we wanted to go. But once I saw Ewan and Charley drive all the way around the world, and in the second series from the northern tip of Scotland to Cape Town, South Africa, I knew I wanted to drive the UK. I wanted a taste of the adventure they had experienced, albeit with plenty of nourishing pubs and comfortable beds along our route, and none of the tsetse flies.
Alexas had been investigating the cost of rail passes for us, but she quickly discovered that not only are they not cheap, the trains wouldn't take us everywhere we wanted to go. Also, traveling by train would lock us into specific schedules, and while we planned on pre-booking our lodgings so we would be at certain locations on certain dates, we wanted the ability to come and go whenever we chose. And I'm glad we did that, because for several legs of the journey, we ended up doing a lot of our driving in the very early morning, when the traffic was light, allowing me to take my time at complex junctions and roundabouts. But I'll get into the specifics of when and how we drove in a moment.
After a few days in London, we took the train south to Brighton, where we hired our car. Then, following a brief visit to the white cliffs at Birling Gap (the southeast shore), we began our zigzagging journey north to Scotland.
Why I Wrote This
I wrote this because when I was preparing for this adventure, I scoured the Internet for a good, clear, comprehensive guide for Americans to driving in the UK . What I ended up finding were a ton of small websites, blog entries, videos and PDFs, all offering different advice—some of it contradictory. What you are about to read is the best, most complete guide to driving in the UK for Americans.
By the time we reached the Cotswolds in England (a nightmare to drive, by the way; trust me, skip the damn place), I knew that when I got back, I wanted to write something that would be a true help to American travelers—a clear, thorough, well-written blog entry that provided travelers with everything I think they'll need to know in order to have a successful road trip through the UK.
One final note before I dive into each topic: Don't think that you need to cover all of one topic before you move on to the next one (e.g., doing all of your Driving Preparation before your Route Planning). Just because I wrote the topics in a certain order doesn't mean you need to learn them in that order. Ideally, you'll be learning a little bit of all of them simultaneously.
Get Organized
The organizing suggestions I'm about to make should be in addition to whatever you're doing to organize the trip as a whole. In our case, Alexas created a binder, and just before we left she filled it with hard copies of all of our flight, car and hotel information; the day-by-day driving directions; the GPS/SATNAV coordinates; and other information. However, what I'm talking about here is organizing your study and workspace. I recommend taking the following steps:
1. Create two separate bookmark folders on your web browser: "General UK Trip Info" and "UK Driving Info"—or use whatever names make sense for you. The point here is that as you're bopping along, studying the driving aspect of your trip, you're going to find websites and resources about attractions, restaurants, tips, etc.—and vice-versa—and you don't want to clutter one subject with the other. Keep the driving stuff in the Driving folder, and the General Trip stuff in the other folder.
2. You might want to create sub-folders in the Driving folder—"Videos," "Roundabouts," "Laws and Rules of the Road," etc.—but this is up to you.
3. Make sure you have a Google account, or if you don't have one, I suggest setting one up exclusively for the trip (e.g., "JonesUKRoadTrip@gmail.com") and have everything travel-related go to that account. Then, use that account for when you start working with Google Maps and Street View (more on this later).
4. Get a spiral notebook or a legal pad to use exclusively with your driving study and route preparation. As you're watching a video or reading an online article about driving in the UK, take notes. It helps to reinforce what you're learning, and then you have the notes to refer to later on. In my case, I ended up with about 20 pages of notes that I was able to read on the plane on our way to London, then on the train on our way to pick up the car hire (rental car).
5. Create a folder on your computer desktop that is exclusively trip-related, and include driving-related subfolders. Here's a picture of the folder on my Mac to give you a starting point:
6. If you have an iPad or other tablet (or a good smartphone with a decent-sized screen), you should really consider bringing it—certainly in place of a laptop. Use it to contain all of your driving- and trip-related documents. The document management app I used for the trip is Documents by Readdle, and as of this writing, it is free. It was a cinch to transfer files between my computer and iPad, it performed brilliantly during the trip.
Driving Preparation
Because I would be doing all of the driving (and Alexas the navigating), I set out to learn as much as I could about driving in the UK before we got there. Instinctively, I knew there was more to driving in the UK than just staying on the left, so I watched dozens of hours of UK driving instruction videos, took countless UK driver's written exams, and studied PDFs of road markings, traffic signals and signage.
To save you time with your own UK driving preparations, I'm giving you a list of the videos, websites and PDF resources that proved to be the most useful once I got over there and started driving. These are items that I'm really glad I understood ahead of time, because had I gone over there without knowing them, the trip might have been a disaster.
Let's start with the videos. I'm convinced that the videos are the number one reason I was able to drive successfully in the UK. By watching so many of them, I became used to the car being on the left, so when I got over there and had to drive on the left for real, it was as if I had already done it.
When you watch each video, obviously pay attention to the main point (e.g., negotiating a busy roundabout), but try also to familiarize yourself with the road signs, road markings, pedestrian crossings, and parking conventions displayed in the video. I found that by doing this, I wasn't distracted by any of these things when I started driving over there.
• DrivingMagic (over 100 videos; excellent ones on roundabouts):
http://www.youtube.com/drivingmagiconline
• "Big Tom" Ingram (dozens of videos; great on roundabouts and general driving):
http://www.youtube.com/user/2010BIGTOM
• DriverSkills TV (only a few videos; narrated by a former UK police driver; good in-car perspective):
http://www.youtube.com/user/DriverSkillsTV
• 2Pass.co.uk (many videos of varying quality; the ones on motorway driving at bottom are excellent):
http://www.2pass.co.uk/video.htm
 • UK Road Signs Video (most of the major UK road signs in a 5-minute video):
 http://www.youtube.com/watch?v=CgfyXdwoYo0
• Highways Agency (better-produced videos; make sure you watch the "Stay Safe, Keep Moving" series):
http://www.youtube.com/user/HighwaysAgency
To give you an example of the "Stay Safe, Keep Moving" series, here's one about the "hard shoulder" on UK motorways. Obviously, their "motorways" are the equivalent of our freeways (although theirs are better, and more clearly marked), and when they say "hard shoulder," you should think of our shoulder or "emergency lane."
Okay, so those are the major videos. Doubtless you'll stumble across others, but I wanted to give you a starting point. Now for the websites and other resources.
The most important website for driving in the UK—as far as knowing the rules and laws are concerned—is the Highway Code. I didn't read every word of it, but this page is a great reference, especially if you have questions concerning specific aspects of driving in the UK. Here's the link:
https://www.gov.uk/browse/driving/highway-code
For knowing what all of the road signs and markings mean, you need the UK driving Bible: "Know Your Traffic Signs." This is an essential PDF for you to have. I loaded it onto my iPad before the trip and made sure that my navigator had reviewed it thoroughly before we left. Part of this PDF covers signs that give directions, which are crucial for your navigator to understand.
"Know Your Traffic Signs" also contains a lot of information about road markings in the UK. In the UK, they use a wide variety of marks on the road (different colored paints and configurations) to communicate a lot of rules—about parking, passing, "giving way" (our "yielding"), and much more.
For information about the UK road system as a whole, including its numbering scheme, motorways, and the bad junctions you should avoid, check out http://www.cbrd.co.uk/.
This next site is geared towards the UK learner driver, but it contains a lot of information that is UK driving-specific (like negotiating roundabouts). It also has lots of videos and little animations to illustrate points:
http://www.2pass.co.uk/roundabout.htm
Finally, once you've watched plenty of videos and you've reviewed the PDF and other websites mentioned above, you'll want to test your knowledge. I took about two dozen of these online driving exams before we left. Even if the actual driving proved to be a challenge, I at least went over there confident that I knew the rules, laws, signage, traffic signals, etc. There are online UK "driving theory" practice tests everywhere, but I found the following two websites to be the best:
The Official UK Government Site
Free Mock Theory Tests (over a dozen tests).
Finally, although you don't have to become an expert in British car terminology, you should learn their names for the major parts of the car. You need to do this so, at the very least, you can be on the same page with the car hire (car rental) company and any petrol (gas) stations you roll into. This handy PDF covers a number of car-related terms, as well as more general road- and driving-related terms.
Because I don't like unpleasant surprises, I tend to over-prepare for new endeavors. For example, before our trip to Paris in 2012, I spent three months learning a good deal of practical French. (And I'm proud to say that because of my study, in terms of day-to-day communication with Parisians and getting around, I kicked ass over there.) This time around, I viewed driving in the UK as another foreign language and prepared similarly.
This being said, you might not need to spend weeks preparing as I did. However, I strongly advise you to spend at least 12 hours (perhaps 6 two-hour sessions) reviewing as many of the above websites and videos as you can, and familiarizing yourself with a) how roundabouts work, b) UK road signs and markings, and c) the UK road system and numbering scheme.
Lastly on this subject, here's a brief "wiki" overview/checklist of many of the most important things you need to know about driving in the UK:
http://www.wikihow.com/Drive-in-the-UK
Route Preparation
Route preparation is essential for driving in the UK, so in the weeks before your trip, you should plan to spend many hours on Google Maps.
Now, I know what some of you are saying: "I don't need routes. I'll just bring my GPS (or SATNAV, as the Brits call it), put in my destination, and go."
Let me tell you, if you go over there without planned routes, you will regret it. Here's why:
1. Most roads in the UK have at least two names—a route number (e.g., A27) and the old-fashioned, legacy name (e.g., "Eastbourne Road")—and your GPS will sometimes use one, and sometimes the other.
2. Your GPS always wants to take you via the shortest route, which will often send you down narrow lanes, and through crowded residential streets. Several times our GPS sent us down residential streets so narrow, and so packed with parked cars, that we barely made it out.
3. You want to know that should your GPS fail, or you lose it, or some other problem befalls you, you will be able to get from place to place.
To prepare my routes, I knew ahead of time each site that we would be visiting, and the hotels/inns where we would be staying each night, so I used Google Maps to construct routes between these destinations. In some cases, I created several routes between locations, so in the event of traffic problems, or if we decided to skip a location, we would have a backup route.
I tried at least half a dozen journey planners before committing to one, and I have to say that Google Maps was the best. And, while over there, I discovered that their directions are highly accurate.
Something else when it comes to route preparation:
Once you have your routes planned, it doesn't hurt to spend a few hours virtually driving portions of those routes using Google Maps Street View. You do this by dropping the yellow "Peg Man" onto the section of road or location that you want to see from the street. Rather than explaining how to use Street View, however, I'll simply include this how-to video:
Obviously, to do a Street View of every segment of your journey around the UK (we logged over 1,500 miles) would take forever, so I don't recommend doing that. (Also, if you were to virtually-drive the entire route, what would be the point of doing your road trip?) However, I do strongly recommend using Street View to get an advance look at small sections of your trip (especially critical junctions and roundabouts)—a few miles here and there of each leg. Knowing the "lay of the land" ahead of time is especially helpful when it comes to knowing how to get into car parks, finding the entrances of historical sites, or avoiding routes that look (or you've read are) too dangerous. A final point about that: If you think a road looks narrow on Street View, wait until you get there!
Here's an example of the value of knowing the "lay of the land" from Street View: While I was planning our routes, I did a Street View of a section of motorway in Southern England, where I was to exit onto another motorway that headed north towards Winchester. Because I planned on reaching this point before dawn, I wanted to identify ahead of time some landmarks that would tell me when I would be approaching this critical junction. And my planning paid off beautifully—when I drove this section of motorway a few weeks later, I knew the correct lane to get into, miles ahead of time, and we reached the Winchester Park & Ride half an hour early.
There's one more thing that you should plan to do with Google Maps and Street View, and that's locate the exact GPS coordinates of the important places you'll be driving to, including your hotels, car parks, and historical sites. The reason for this is simple: It's far easier to enter a few numbers into your device than it is to try to find them manually, or under the "Points of Interest" menu. The directions built into the devices are sometimes outdated, too.
It took many hours to do (okay, perhaps I'm obsessive), but I managed to put together a list of coordinates for the top 50–75 locations we would be going to (including everything from major historical sites to cathedrals to car parks to hotels to supermarkets), and we had both PDFs and hard copies of that list during the trip.
To save you time in looking up all of these sites yourself (at least a solid week's work) , here's a copy of the PDF I created. It includes coordinates for popular UK attractions including Chatsworth, Stirling Castle (incredible), Stratford Upon Avon, Stonehenge (skip it), and Hadrian's Wall, as well as hard-to-find Park & Ride facilities outside of Winchester and Bath:
Select UK GPS/SATNAV Coordinates – by Chris Orcutt
Once we were over there, I discovered that the exact coordinates were the most reliable and accurate means of getting from one place to another. Our printed directions had occasional hiccups, and sometimes our atlas failed us, but when it came down to it, if we had the exact coordinates of a location, our GPS could get us there—every time.
For the next part of your route preparation, I recommend that you read this article about the most dangerous roads in the UK and modify your routes accordingly. As a result of reading this article, and some other research I did, I avoided roads that I had originally planned on driving, including the notorious A537.
If you don't read anything specifically admonitory about a section of road you're planning on driving, but you're studying your atlas and the section looks questionable, I suggest you do as I did and look for video on YouTube of a car driving that route. In my case, I was concerned about the A82 along Loch Lomond. On the atlas, it looked curvy, but I thought that the loch-side vista would more than compensate for its serpentine quality and any danger there might be.
And then I watched a video—this video—and said out loud, "F-ck this." (The video has accompanying music, but I suggest you turn it off; it's terrible and will distract you from what's important—just how sinuous and suicidally narrow this road gets.)
Don't worry: Although narrower (in some cases much narrower) than our roads in the US, not all of the UK roads are suicidal like the Loch Lomond section of A82. As a general rule, however, the roads in Scotland are narrower and more sinuous than the ones in England.
Car Hire (Renting Your Car)
While you're doing your driving preparation and route planning, you'll also need to line up your car hire. Whatever you do, don't skimp on this step. Do your research—particularly when it comes to insurance (you want to be sure you're covered). These are the steps that Alexas and I followed, and the lessons we learned:
Booking the car. Alexas handled all of our bookings for the trip, including the car hire, but here are some of her tips:
1. Use the various travel price-comparison aggregators (e.g., Orbitz, Travelocity, Kayak, etc.) to get a sense of what the general prices are, and who has the best prices.
2. Identify the companies with the best prices, and then investigate what those companies' prices would be if you were to book the car directly through their foreign websites (i.e., "www.xxxx.co.uk).
3. Unless there is a major difference between the price you found on the aggregators and the one you found directly on the company website, book directly through the company website. Doing it this way gives you access to the contact information for the specific branch where you'll be picking up your car.
Which company should I hire my car through? All of the major American-based car rental companies are in force in Europe, but Europcar seems to have the most locations, and therefore the most cars available. We rented through National, only to discover once we got there that Alamo and National are Europcar affiliates in the UK. The bottom line is, we probably should have rented directly through Europcar to begin with, and most likely would have gotten a better price by doing so.
Where should I pick up my car? Although the per-day prices can be significantly less if you pick up at an airport, we strongly suggest that you avoid airports—especially if this will be your first time driving in the UK. We took a train from London to Brighton and picked up our car at a branch on a quiet street. (And I knew ahead of time that the street would be quiet because I had used Google Street View to check it out.) Getting the car at a less busy location ensures that you will have at least a few minutes to get acquainted with the vehicle and to get used to driving on the left.
What size car should I hire? This is a question of your comfort level with driving on roads much narrower than the ones you're used to in the US, and it's also a question of how long a trip you're taking, how many people will be in the car, and how much baggage you have. One thing is certain: do not hire the smallest available car. I don't care that it's dirt-cheap.
Our concept of "small" in the US is very different from the UK or European concept of "small." If you get the smallest, most basic car, you are going to be unhappy. Also, you will need some power on the motorways and to get through roundabouts. Finally, if you're going to be spending any length of time in the car, as we did (11 days), you want to be comfortable.
In our case, although we booked a car that was on the small end of the spectrum (a "compact," which was third from the smallest, if I remember correctly), the branch in Brighton where we hired it was out of cars when we showed up. It was only when I slipped a 20-pound note into the manager's hand that an "estate car" (our "station wagon") miraculously became available. (To the Alamo branch's credit, I was given the bigger, more luxurious car at the same price as the compact I'd reserved.)
It's about finding the right balance between space inside the car, power, fuel economy, and the size of the outside of the car, and obviously there are tradeoffs. In our case, the longer and slightly wider body made certain maneuvers tricky (e.g., driving down narrow village roads where lots of trucks were unloading), but overall, I'm really glad we had the larger vehicle. The car had considerable power for accelerating onto the motorways, and it was roomy and almost luxurious inside. Although we seldom drove for more than three hours at a stretch, when we arrived at our destination, we always felt relaxed, and over the 11 days of driving, I didn't develop muscle knots or other discomforts, as often happens to me during long road trips in my own car in the US.
What type of transmission should I book: manual or automatic? In my opinion, unless you are a NASCAR driver, you should absolutely book an automatic. I am a pretty damn good driver, and although, in retrospect, I think I could have handled a manual transmission, I'm really glad I went with the automatic. Doing this takes another variable out of the equation—the shifting. And believe me, when you get to busy roundabouts—where you have to be able to accelerate quickly into them—you'll be glad, too. Get the automatic! And make sure your car hire reservation is explicit: automatic transmission. If you don't specify, you will be given the default—a manual or standard transmission.
What about insurance and other details? This is where you have to decide what is best for yourself. In our case, we investigated the per-day charges for insurance first, and then we found out that because we had the American Express card, we could pay a one-time fee of about $25 that would cover everything car-related for the duration of the trip. This saved us hundreds of dollars.
To get this coverage, you have to call up American Express and talk to their travel services people, and you need to activate it before each trip. Once you've activated it, they will send you a letter saying you are insured for your next trip. Make sure you bring a copy of this letter with you, in case you have to prove to the car hire company that you have insurance. Before we left, I read somewhere that in some cases, if you decline all of their insurance coverages, they will insist on seeing proof of coverage. We were never asked to furnish the letter, but we had it with us just the same.
This brings me to my next point: Whether you go with American Express's insurance plan or another outside company's, in 99% of cases, in order for the coverage to be valid, you MUST decline ALL of the car hire company's insurance packages. This is critical! Again: If you're using an outside plan, you MUST DECLINE ALL of the car hire company's insurance packages. Your insurance provider can explain the details to you about this.

Now, if you don't have an American Express card, you might consider getting one (seriously, the car rental insurance plan alone makes it worthwhile), or look into whether or not your own credit card company offers insurance on foreign rentals. Many do, but one thing, though—with all of the companies (including American Express), rentals in certain countries are NOT COVERED. In the case of AmEx, I believe they didn't cover rentals in Ireland, Italy, Greece, and certain Eastern European countries. Again, you need to talk to your specific company and get the details.
Following are a few PDFs that we found very helpful when renting the car:
Car Rental Insurance Checklist
What paperwork do I need to bring to the car hire location? Above all else, MAKE SURE you have the following with you: 1) your passports, 2) your US drivers' licenses, 3) your International Driving Permit—one for each driver, and 4) your proof of outside ("third-party") insurance—if you decide to go that route. Chances are, you'll never need your International Driving Permit, but get it. Better safe than sorry.
Finally, what should I do when I pick up the car? First, don't let them rush you. Take all the time you need to learn how the car works. (You might slip your rental agent a few quid to motivate him or her.) Especially make sure that you find out how to operate the following: 1) the gas tank cover release, 2) the handbrake, 3) the headlights and fog lights, 4) the trip odometer/computer, 5) the hood or "bonnet" release, 6) the trunk or "boot" release, and 7) the windshield wipers. Verify that there is a spare tire and jack kit in the boot. Check to see that there is adequate windshield washer fluid in the reservoir.
Next, take time-and-date-stamped photos of the car (inside and out, and from all angles). Be sure to get close-ups on the tire rims, doors and both front and rear bumpers. Make sure that every single scratch, ding or other mark on the car is noted on the rental agreement—no matter how small.
Meanwhile, your navigator and/or co-driver should go through a checklist of everything on the car, verifying that everything works. Here I've attached two handy documents I created for our trip: 1) a pickup checklist that covers everything on the car that I could think of; and 2) an info sheet, on which you should write data such as the car license plate number, make and model of the car, pickup and return addresses, and emergency phone numbers. (To create these yourself would take hours. You're welcome. :)
My final thought on the car hire is that this is an extremely important step, so be sure to spend some time on it, and double-check everything you do.
The Realities of Driving in the UK
So far, I've written 5,000 words about Driving in the UK without talking much about the actual driving, but this is because you will learn more from the above-mentioned videos than I could possibly communicate in 50,000 words. What I am going to do, however, is give you a few nuggets of wisdom—or what I learned from my own driving experience over there—that will prepare you for what you're likely to encounter, and reduce the number of surprises.
In each case, I'll give you the most important idea(s), without a lot of explanation. Some of these ideas will be presented as stream of consciousness—exactly as they occur to me—so they may be in incomplete sentences. Just know that these lapses are intentional. Anyway, each topic is underlined, and a few sentences about that topic follows it:
Roundabouts. Without question, the use of roundabouts in the UK at intersections (junctions)—as opposed to our endless traffic lights and four-way stops—is the biggest difference between driving there and in the US. It takes some getting used to—even more than the idea of driving on the left, which, after a few hours behind the wheel, you'll be comfortable with. (By the way, I suggest you put a Post-It note on the car dashboard as I did, a note that reads, "STAY LEFT. LOOK RIGHT.") The most important idea with roundabouts, in my opinion, is this: Get into the correct lane as soon as possible, and if you have a choice of lanes for your exit off the roundabout, choose the most outside lane. A couple of other points here: 1) Your Google directions, although highly accurate, will gloss over roundabouts, often saying, "Go through 3 roundabouts"; in other words, not every roundabout is mentioned. Also, Google often doesn't count certain spokes or exits off a roundabout, so when it says, "Take the 3rd exit off the roundabout," it's sometimes wrong. 2) In really large, complicated roundabouts (these often have traffic lights on them), as much as possible follow the markings on the road; provided you're in the correct lane, these will usually "spiral" you out of the roundabout naturally.
Tailgating/Aggressive Driving. Listen, I've driven in and around cities all over the US—Boston; New York; Philadelphia; Washington, D.C.; Chicago; Dallas; San Francisco—and I thought I knew tailgating and aggressive driving. Nope. But here's the weird thing: Every English person and Scot we had the opportunity to talk to—from London to Bath to Newcastle to Glasgow to Inverness—every single man and woman was friendly and welcoming to Alexas and me. However, put them in a car…and, well, something happens to them. Many of the English—and especially the Scots—are obnoxious tailgaters and aggressive drivers. I mean the worst. It's so pervasive, it's as though it's the UK national pastime. Prepare yourself for it, because it's going to happen, and you'll be shocked every time it does. No matter what happens, drive at a speed you're comfortable with, and if a long line of cars develops behind you, and there's a "lay-by" or turn-out where you can safely pull over, do so and let the traffic pass. When you get fed-up and angry about how everyone in the UK drives this way (to varying degrees), stop and relax for a while. Have coffee or lunch, or just get out of the car and breathe.
Lack of Turn-outs or "Lay-bys." This can be frustrating because there are going to be many places where you'll wish you could stop and get a photo, and many times when you want to get the hell off the road and let traffic pass, but lay-bys are rare. So, my advice to you is this: When you do come upon one, if you need to stop for any reason, stop and use it because there likely won't be another one for some time.
Cyclists. They're everywhere over there (except the motorways, of course), so any time you go around a blind turn in the country, be prepared to encounter them.
Car Parks and Park & Ride Facilities. Use them. Don't try to park on the streets. The signage can be complicated and contradictory, and many villages and towns have special parking passes that you have to buy and display in your car in order to park on the street. And don't try to drive into the cities! Use Park & Ride facilities instead. They're spacious, well-organized, and have buses that run from the car park to the downtown area of whatever city you want to visit. We did this with Winchester, Bath and Glasgow, and are we glad we did!
Narrow Roads. The narrowness of the roads and lanes will shock you. The other thing is, the width of the roads is very inconsistent. You'll be driving along on a nice, wide stretch of road—say, through the Peak District, or on your way to the Isle of Skye—and it will suddenly narrow, and you'll have a rock wall inches from your car on the passenger side (this happened to us in the Lake District), or you'll come to a sign that warns of a narrow bridge ahead (all over Scotland). A good general rule of thumb is something that Heraclitus said: "Expect the unexpected." When you are suddenly put into a tight squeeze situation, take a deep breath and ask yourself, "How would James Bond handle this?" That's right—coolly, and with laser focus. Block out all distractions and focus on keeping your side of the car (the driver's side) as close to the center line as possible.
Inconsistent Speed Zones. Not much to say here, except that you'll be cruising along on a single-carriageway at the UK national speed limit of 60 mph, be told to slow to 40, and then—in less than a quarter-mile—be told to resume the national limit. In the course of a few miles, you might be forced to change speeds ten times. It's worse in some areas than in others, but it's still maddening.
Speed Cameras. They're all over, and as locals in the Lake District told me in a pub, they're for real. Mind the speed limits while you're over there because if you get a ticket, the car hire company will send it to you months later. This didn't happen to me, but I know other Americans to whom it happened.
Crosswalks. When you are studying UK road signs and road markings, make sure you understand the differences between the different types of crossings—e.g., Zebra, Pelican, Toucan, Puffin, Pegasus, etc.—and when you need to stop, and when you can roll through.
The "White Van Man." People in the UK refer to their delivery-truck people (our UPS or FedEx) as "the white van man." Of course the vans are in a multiplicity of colors (predominantly white), but the point is that these guys are the most aggressive, dangerous drivers (next to the motorcyclists) in the UK. On the motorways, they swerve in and out of lanes, and on country roads, they'll pass you on blind turns—everything. Give them a wide berth.
Single-Track and "B" Roads. First, regarding single-track roads, avoid them as much as you can. Some people who have driven in the UK will say that you have to drive them to get a real feel for the charm of the UK, but to hell with that. In your travels, you will find yourself having to use a few single-track roads, and that will be enough. You don't need to go out of your way to find single-track routes between locations. We drove more than our share of them in Scotland because of where my ancestors' castles were located, which in one case required us to go quite a ways off the beaten path. The bottom line is, if you find yourself on a single-track road, and another car is approaching from the opposite direction, the etiquette is this: Whichever of you has the nearest lay-by should pull over and let the person pass. And if you're on a hill, the person coming uphill has the right of way. As for "B"-numbered roads, avoid them if you can, but when you have to drive them, do so with caution. The B-roads are notorious for being extremely narrow, twisty, etc., but the locals (because they know the road) still drive 60 mph on them.
Your GPS/SATNAV Unit. Two things: 1) Whatever brand you buy or own, make sure you buy the card with the latest UK maps on it (or that it comes pre-loaded with the maps). 2) Shut off the voice on the thing. Let your navigator read it and tell you what to do next. The voice is distracting. Oh, and one other thing: Your US cigarette lighter plug for the GPS (or any other US electronic device) WILL fit into the UK car cigarette lighters, and their cars all have the outlets—if not multiple ones.
Motorways. If you're truly doing a long road trip through the UK, you will have plenty of opportunities to drive the country roads, so use the motorways to drive between regions. They're fast (70 mph for cars) and efficient. Exits are very well-marked, with signs that show what the roundabout at the end of the exit looks like, and they even have these "countdown" bars to tell you how many hundreds of yards you are from your exit. A few tips regarding motorways in general: 1) Stay to the LEFT, and once you overtake (pass) a car using one of the two right-hand lanes, get back over to the LEFT immediately. 2) Use their "services" (our rest areas); for the most part they're well-designed and clean, and you can get your petrol and some coffee, and get back on the motorway afterwards without any hassles. Do NOT make a habit of getting off at an exit, thinking you'll find what you need; the "services"  are the places to do this stuff. 3) VERY important: In the US, traffic already on the highway has to yield to incoming traffic; but in the UK, it's the opposite: If you are trying to enter the motorway, YOU have to yield, so make sure you use as much of the slip-road (on-ramp) as you can, use your directionals, and time your merge into traffic.
Best Driving Times. If you can avoid it, do NOT drive at rush hour—basically the same hours as in the US. For most of our trip, I timed the driving so that we covered a lot of ground before dawn (driving between regions), then stopped for breakfast to wait out rush hour, then did our local driving during the day. Best times: early mornings and late evenings.
Petrol Stations and Etiquette. First, the colors of the fuel nozzle handles are different in the UK: Plain petrol (our unleaded gasoline) is dispensed from nozzles with a green handle; diesel fuel comes from nozzles with black handles. Next, unlike in the US, diesel fuel is widely available. In fact, every single station I went into had diesel. Finally, if there are other vehicles in the station "forecourt," pick a pump lane and stick with it. Drivers in the UK hate anybody who tries to form "one line," taking the first available pump. And once you've filled, move your car the hell away and park it. Something else UK drivers hate: people who leave their cars parked at the pump, then go inside the station for fifteen minutes. Obviously, if it's 5:00 a.m. and the station is empty, then it shouldn't be a problem. Just use common sense here.
Other Tips: 1) Make sure you have an ample supply of 1-pound coins in the car, or on your person, at all times; you will need them for everything. 2) Early in your trip, go to a supermarket and stock up on car snacks and bottled water; if you buy it ad hoc, you'll end up spending a lot more money. 3) If you're taking a long road trip and staying in a lot of hotels or motels along the way, have a packing/unpacking routine, and put your stuff in the same location every time so you don't leave anything behind. 4) Travelodge and Premier Inn are the two most ubiquitous hotel/motel chains throughout the UK. Travelodge is cheaper, but Premier Inn is—in most cases—way nicer. If the price difference is only a few pounds (say up to 10–15 pounds), go with Premier Inn. We stayed in perhaps half a dozen of them during our 11 days of driving, and everything about them was superior. 5) Finally, the road atlas we used is the A–Z Great Britain Road Atlas (Super Scale), and it was excellent; however, it was a bit large, so you might consider getting its smaller brother.
Conclusion
I have just written over 7,000 words on driving in the UK for Americans. I realize this might be overkill, but I want all of my fellow Americans to benefit from what I learned during our road trip through England and Scotland. It was an incredible experience, and I'm proud to have done it—and done it with panache.
You can do it, too, but make sure you do your homework ahead of time. Watch the videos, take the practice exams, read the rules and signage. Don't go over there with the typical American attitude of "I got this" or "I'll figure it out," because if you do that, your chances of failing (and possibly having an accident or worse) will be much higher.
Print this blog entry to PDF and put it on your phone or tablet for the trip, and maybe reread it as a refresher during your plane journey over there.
Finally, if you find what I've written here to be valuable and helpful, let other travelers know about it. And since I wrote this and am offering it to you for FREE (and have saved you dozens of hours of work), please consider buying one of my books. They are very well written, as well as entertaining, and you now have the time to read them. :)
Thank you, and I wish you a safe and enjoyable road trip through the UK.
—Chris Orcutt
—