On Recognition and Accolades: Why I Drank the Metaphorical Motor Oil this Year
by Chris Orcutt
with Comments Off

on On Recognition and Accolades: Why I Drank the Metaphorical Motor Oil this Year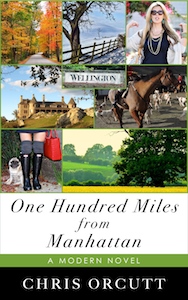 It came as a complete surprise to me last week when I found out that another one of my books had been chosen by IndieReader as one of the best books of the year. Last December it was my short story collection The Man, The Myth, The Legend, and this year IndieReader selected my modern pastoral novel One Hundred Miles from Manhattan as a Best Book of 2014.
If you haven't read it yet, consider picking it up for yourself or a friend as a Christmas gift. It's available as a Kindle ebook, or in print.
No writer, if he wants to go on living, holds his breath waiting for good reviews or accolades. There are long periods when nothing happens on the recognition front, and in fact a writer can publish a book and have years go by before anyone notices it at all.
That's why, when the recognition and modest accolades come in, you have to acknowledge them and be thankful. As a writer, you cross many vast deserts alone, spending a lot of your writing life thirsting and starving for some kind of recognition. The trouble is, if you don't get the delicious cold spring water and the picnic table full of food somewhere along the way, you become willing to take recognition in whatever form it comes to you, no matter how unhealthy it might be.
There's a scene near the end of the James Bond movie Quantum of Solace in which Bond dumps the bad guy in the middle of a desert, probably 100 miles from anything, and he drops a can of motor oil on the ground and says, "I bet you'll make it twenty miles before you consider drinking that."
I have to tell you, folks—earlier this year I was in that desert, and I'm ashamed to say that I drank the motor oil.
And rather than quenching my thirst at all, it only poisoned me. I won't go into detail about the form that that motor oil took; all I'll say is that I craved the real thing (professional recognition and sales) so much, I was willing to accept fawning and adoration as a substitute.
But that was earlier this year. As I go into 2015, launching the next Dakota Stevens mystery, A Truth Stranger Than Fiction, on January 1, I've had my hunger for recognition and accolades temporarily satiated, most recently by the IndieReader honor, a long profile in The Poughkeepsie Journal, and a highly favorable review of 100 Miles by Kirkus Reviews.
I realize there will be more deserts in my future as a writer, but knowing what I know now—that the motor oil in no way quenches your thirst; it only poisons you—I won't be drinking it again.