About Perpetuating Trouble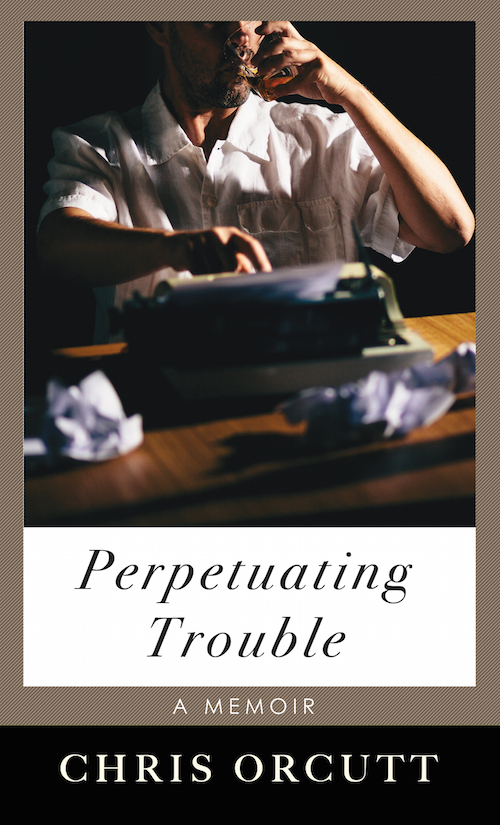 Dear Reader…have you ever wished you could earn a living by making stuff up? Have you ever fantasized about living the life of a writer? If so, Perpetuating Trouble is the humorous cautionary tale you need to read.
"I avoided writers very carefully because they can perpetuate trouble as no one else can," wrote F. Scott Fitzgerald. In this memoir, novelist Chris Orcutt shows how true this is.
Debunking the myths, Orcutt reveals that the writing life is really one of crushing solitude, chronic dissatisfaction, mood swings and self-doubt, and where successes, when they come, are like diner mints—sweet, but short-lived. And everyday life is equally stressful, with callous urologists, curmudgeonly painters, flirtatious receptionists, personal feuds and petty thefts. For the writer, all of this leads to one thing—perpetual trouble.
Yet, Orcutt's deep love of language, his saintly wife, and his indomitable sense of humor keep him going. Whether picking up two female hitchhikers who later turn out to be aliens from another planet, or divesting himself of a hoard of tacky paintings, or using philosophy to get out of a traffic ticket, Orcutt finds the humor and the art in his trials. It's also a life of love and sadness, as he recounts a whirlwind love affair with a ravishing redhead, and the death of his beloved writing companion, his cat.
In the end, Orcutt discovers that to be a writer, he must be part adventurer, crusader, humorist, lover, philosopher, and, of course, troublemaker.
Perpetuating Trouble is Orcutt's tenth book, and by far his most personal work to date.
Buy Print | Kindle | NOOK | Google Play | iBooks
Excerpt from Perpetuating Trouble
I can't speak for all blocked writers, but when I'm blocked, I seek out conflict with people and institutions, and I channel my creative tension into distractions, raising my procrastination from writing to a rarified art form. Over the past 25 years as a writer, I have manifested my writer's block in countless ways. I have taken day-long, meandering car rides, and, if another driver's driving has annoyed me, I have followed that person for hours, across state lines in some cases. I have researched pencils, going so far as to investigate what became of the lead formulas of superior brands that no longer exist. I have visited my library's used book sale and stolen back books that I donated because they didn't put the books in their collection like I asked them to. I have also stolen copies of my own books from library used book sales, when I've discovered they were copies I inscribed to specific readers, and the readers hadn't valued them. I have started national campaigns to boycott candy bar companies when they changed their packaging from traditional paper and foil to Mylar. I have written rants on social media websites, about politics or American history or English grammar, or sometimes about social media itself. I have written letters to the editors of daily newspapers, or pretended to be a college student and written satirical pieces for college newspapers. I have savored afternoons drinking beer in bars with names like "Hurricane" and "Ice House," flirting with attractive female bartenders, watching soccer (which I loathe) and correcting the grammar of men who speak rudely to the waitresses. I have feuded with a local thrift store because they refused to exchange a $3 denim shirt I'd bought that didn't fit me. I have called the office of Connecticut Senator Lieberman and argued with his underlings about his policies, even though I am not now, nor have I ever been, a resident of Connecticut. I have invented an alter ego, Dakota Perez, and persuaded small-town journalists to write articles about "my" exploits.
The German Christian theologian and philosopher Meister Eckhart said that God gives to each one of us what is best for him. I believe this is why God has not given me a silver Aston Martin V12 Vanquish, nor a bourbon-drinking 25-year-old mistress in the form of "red-headed, deep-breasted, slender and indolent" Clarissa from John Cheever's story "The Chaste Clarissa." God knows that neither the Aston Martin's 568 horsepower, nor the deep-breasted redhead reclining languorously in the passenger seat with a bottle of Maker's Mark Kentucky Straight Bourbon in her lap would be best for me. Not at all. And if I had writer's block at the same time? Forget about it. I wouldn't self-destruct; I would spontaneously combust.
Buy Print | Kindle | NOOK | Google Play | iBooks
The Legend of Dakota Perez
In Perpetuating Trouble, when describing all of the ways in which Orcutt's writer's block has manifested itself, he writes, "I have invented an alter ego, Dakota Perez, and persuaded small-town journalists to write articles about my exploits."
Following is one of the "Dakota Perez" articles from the Downeast Coastal Press, and this PDF contains a couple of these articles.
Downeast Coastal Press — Week of November 15, 1994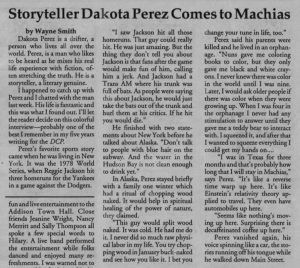 "Storyteller Dakota Perez Comes to Machias"
by Wayne Smith
Dakota Perez is a drifter, a person who lives all over the world. Perez is a man who likes to be heard as he mixes his real life experience with fiction, often stretching the truth. He is a storyteller, a literary genuine.
I happened to catch up with Perez, and I chatted with the man last week. His life is fantastic and this is what I found out.
I'll let the reader decide on this colorful interview—probably one of the best I remember in my five years writing for the DCP.
Perez's favorite sports story came when he was living in New York. It was the 1978 World Series, when Reggie Jackson hit three homeruns [sic] for the Yankees in a game against the Dodgers.
"I saw Jackson hit all those homeruns. That guy could really hit. He was just amazing. But the thing they don't tell you about Jackson is that fans after the game would make fun of him, calling him a jerk. And Jackson had a Trans Am where his trunk was full of bats. As people were saying this about Jackson, he would just take the bats out of the trunk and hurl them at his critics. If he hit you, [you] would die."
He finished with two statements about New York before he talked about Alaska. "Don't talk to people with blue hair on the subway. And the water in the Hudson Bay [River] is not clean enough to drink yet."
In Alaska, Perez stayed briefly with a family one winter which had a ritual of chopping wood naked. It would help in [the] spiritual healing of the power of nature, they claimed.
"This guy would split wood naked. It was cold. He had me do it. I never did so much raw physical labor in my life. you try chopping wood in January buck-naked and see how you like it. I bet you change your tune in life, too."
Perez said his parents were killed and he lived in an orphanage. "Nuns gave me coloring books to color, but they only gave me black and white crayons. I never knew there was color in the world until I was nine. Later, I would ask older people if there was color when they were growing up. When I was four in the orphanage I never had any stimulation to answer until they gave me a teddy bear to interact with. I squeezed it, and after that I wanted to squeeze everything I could get my hands on….
"I was in Texas for three months and that's probably how long that I will stay in Machias," says Perez. "It's like a reverse time warp up here. It's like Einstein's relativity theory applied to travel. They even have automobiles up here."
"Seems like nothing's moving up here. Surprising there is decaffeinated coffee up here."
Perez vanished again, his voice spinning like a car, the stories running off his tongue while he walked down Main Street.
Buy Print | Kindle | NOOK | Google Play | iBooks
Preview of Perpetuating Trouble
The memoir contains adventures and episodes that occurred during a 20-year period of the author's life. Following are the chapter titles and brief synopses of their contents:
1 – Alien Girls — In which the author receives writing advice from two female extraterrestrials.
2 – The Thomas Kinkade Affair — In which the author attempts to divest himself of a hoard of loathed paintings.
3 – You Know What's Coming Next — In which the author describes a prostate exam.
4 – Absentminded — In which the author documents his tendencies toward absentmindedness.
5 – The Redhead in the Emerald Slicker — In which the author chronicles his brief love affair with the redhead.
6 – A Sorry Mendicant — In which the author shows what his life is like when hampered by writer's block.
7 – Accidental Invaders — In which the author recounts his misadventure with ladybugs.
8 – Nobody Says Anything — In which the author relates his frustrations with always being the person who speaks up.
9 – Love Story to Sweetie — In which the author tells the story of his beloved writing companion, his cat.
10 – The Prodigal Student Returns — In which the author limns about a visit to his alma mater, 20 years after graduation.
Buy Print | Kindle | NOOK | Google Play | iBooks

* Book cover image, "Writer novelist drinking whiskey working on a book using typewriter" (stock photo ID: 530717434) by Peter Bernik, used under license from Shutterstock, Inc.