About A Real Piece of Work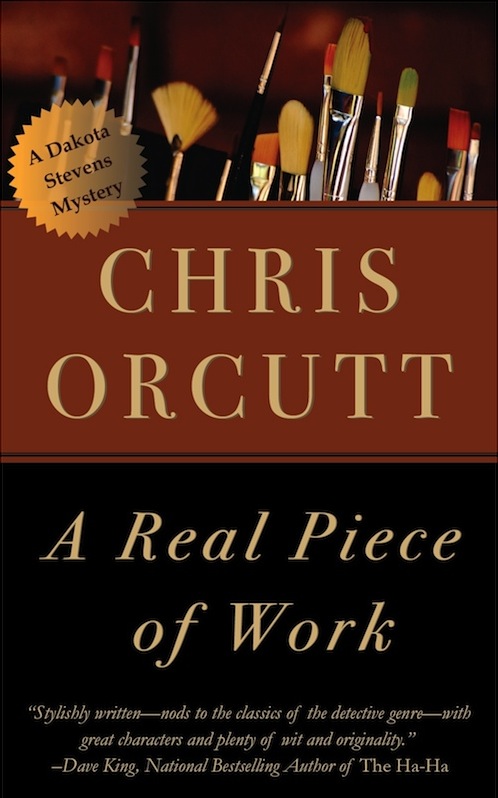 The Amazon Bestseller that launched a series…
A Real Piece of Work, the 1st novel in the Dakota Stevens Mystery Series by Chris Orcutt, delves into a world of forged and stolen art, secret identities and murder.
At the close of a case in Key West, PI Dakota Stevens and his associate Svetlana Krüsh return to New York, where the city is in the grips of its worst blizzard since 1888. When an art dealer stumbles in from the storm and hires them to find a stolen painting, they think it's just another case, but in no time they're neck-deep in a world of unstable artists, seductive gallery owners, mysterious collectors, deadly henchmen and a stunning femme fatale.
In a thrill-ride of a mystery that leads from Manhattan to the Catskills to Washington, D.C., what begins as the simple recovery of a painting soon reveals an international art scam and a chilling secret hidden for decades.
Fast-paced and intelligent, A Real Piece of Work is a pristinely well-written page-turner for readers who like a great story told with literary style.
"Action, lust, danger, style and witty repartee, Orcutt's A Real Piece of Work is a work of art. (5 stars)" — IndieReader
Buy Print | Kindle | NOOK | Google Play | iBooks
Excerpt from A Real Piece of Work
Before the Latino took another step, I threw my coffee in his face and kicked him in the balls. Shay gasped. He doubled over, his face contorting with anger and nausea. Knees bent, he shot out a jab with some horseradish on it. I tried slipping it, but it grazed the side of my head, his knuckles practically digging grooves in my scalp. Luckily his buddies stayed on the sidelines. Waiting until he was upright, I shuffled inside him and drove my elbow through his jaw. I felt the surprisingly soft crunch of bone, and he landed hard on the walkway.
Before I could take a defensive stance, the other two moved in swinging the hammers. I sprang backwards, but not enough. The claw of one gashed my parka across the chest. Half-running, half-skating to the rusty barrel, I grabbed a length of two-by-four and spun around. As they charged me I rammed the wood end-first into the white guy's bald head, which collided into the black guy's bald head. Dazed, they dropped their hammers and crumpled into the snowbank.
God forgive me, but it was the best 8-ball shot I'd ever made.
Meanwhile, I'd forgotten about the Latino. When I turned around, he pounded me on the thigh with a hammer, right on the muscle. I buckled to one knee. The wood clonked on the stoop. The pain was so intense that I wanted to scream, but couldn't.
Enough of this shit. I yanked my coat open, revealing the .45 revolver. The Latino smiled at me with a scalded face. He dropped the hammer. I got slowly to my feet, struggling to hide the pain. My eyes were tearing as I caught my breath.
"Look, I'm only saying this once. You go back to this Mr. Talese…you tell him Miss Connolly will be staying…till her lease is up. Got me?"
The Latino man mumbled an affirmative, but the other two were too stunned to answer. I limped past them, up the steps. "Now get lost."
Inside I stopped at the foot of the stairs and hung onto the banister.
"Damn that smarts." I wiped my eyes.
Shay sat on the stairs watching me. "You burned that guy with your coffee."
"You use whatever's available, Miss Connolly. Please, give me a moment."
"I feel bad. What can I do?"
"Go away."
Buy Print | Kindle | NOOK | Google Play | iBooks
Is A Real Piece of Work based in fact?
Yes. While this is a work of fiction, it is also the product of wondering "what if" in relation to a number of historical facts. In a famous 1964 Playboy interview, the brilliant Vladimir Nabokov had this to say about the mysterious process by which he began to assemble a work of fiction:
"All I know is that at a very early stage of the novel's development I get this urge to garner bits of straw and fluff…After the first shock of recognition—a sudden sense of 'this is what I'm going to write'—the novel starts to breed by itself…"
For me, the two main "bits of straw and fluff" were these:
1. The fraud committed by convicted art dealer Ely Sakhai.
2. Even after 60 years (since the end of WWII), over 100,000 works of art were still missing; yet, previously lost works were being discovered with regularity.
There were many other bits of straw and fluff that contributed to the novel's coalescing, including the Monuments Men (now the subject of a major motion picture), the Munich Central Collecting Point, and the Quedlinburg Hoard; however, once I became curious, it was really the articles and government records themselves that prodded me.
While writing the novel, I collected over 2,000 pages of research on art looting during WWII, art forging, and restitution. Sources of material include the National Archives, the National Gallery Library and the Metropolitan Museum of Art website.
I found this to be a fascinating subject, and hopefully you will, too. To that end, if you purchase the novel, you'll receive a password (preventing spoilers) that will give you access to PDFs of the dozens of government reports and other documents I consulted in writing the book. One example I can give you (without creating a spoiler) is this PDF of Art Claims Filed with US Govt by 1956. It's a HUGE file showing close to 10,000 claims of lost art, so the idea that thousands of pieces are still floating around in the art world isn't nearly as far-fetched as it might seem.

Does the story borrow at all from your own life?
In a way, yes. Growing up, I thought I wanted to become an FBI field agent and/or a scientist at the FBI Lab. In college, I started out as a forensic chemistry major and also took courses in criminology and criminalistics. I spent several weeks shadowing a scientist with the Massachusetts State Crime Lab, visiting the lab several times and watching him testify in court.
By the time I graduated, with a degree in philosophy, I was more interested in reading about detectives than I was in becoming one, so the Dakota Stevens series represents something of Robert Frost's "The Road Not Taken."
Put another way, James Joyce said that all fiction is "imagined autobiography," so the Dakota books are how I'd like to imagine my life might have turned out had I gone through with my FBI plans.

What bonus material does the novel include?
At the end of the novel, in the "About the Novel" section, there is a password that will give you access to the Dakota Stevens case files, where you'll find dozens of articles and government documents used in the research for the book.
Buy Print | Kindle | NOOK | Google Play | iBooks

* Footnoote: The cover of A Real Piece of Work was designed by Elisabeth Pinio, and the photo used on the cover, "Paint Brushes Close-Up," is by Tech109 on Flickr.