About A Truth Stranger Than Fiction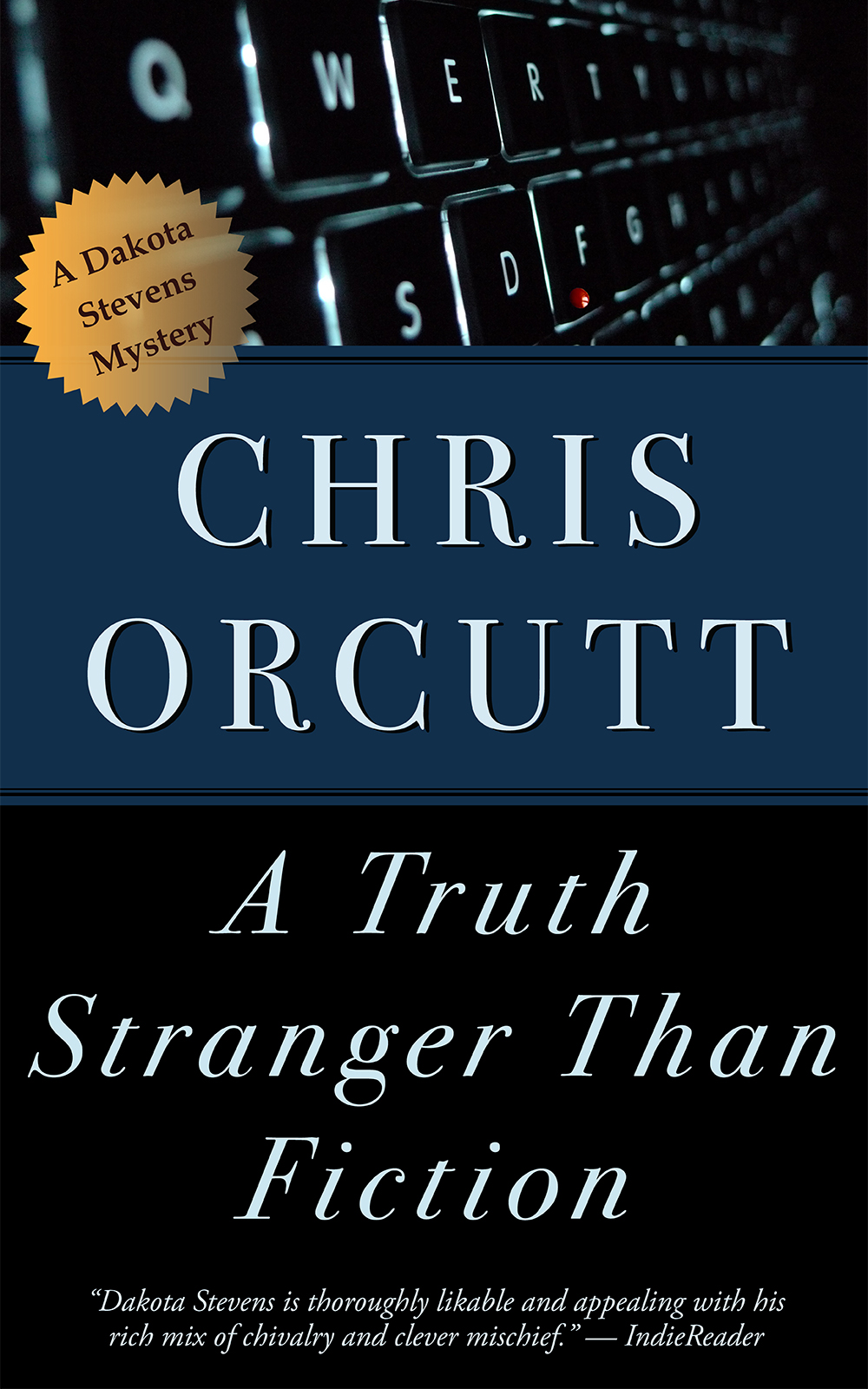 He's BACK. Dakota Stevens, the tough, wisecracking New York private eye…
A Truth Stranger Than Fiction, the 3rd novel in the Dakota Stevens Mystery Series by Chris Orcutt, delves into the bizarre, interconnected world of foreign spies and fangirls, mobsters and murderers, government bureaucrats and corporate profiteers.
Manhattan PI Dakota Stevens has just moved into new offices on Fifth Avenue when a young woman walks in with a problem: her older brother, a famous science fiction author, has been missing for a week.
Before Dakota even has a chance to take the case, he and the young woman are accosted by a horde of people searching for the brother: government agents, thugs, mobsters, and two mysterious Chinese men. What could her brother possibly be into?
In a case that leads from the streets of Manhattan to the woods of Upstate New York, to Boston and the shores of Maine, to Washington, D.C. and the Midwest—by foot, train, truck, boat and private jet—what begins as a simple missing persons investigation quickly devolves into the most difficult and personal case of Dakota's career.
In the end, Dakota exposes a secret that literally has the power to change the world.
And the truth is a truth stranger than fiction.
With humor, action, intrigue, and lush writing, A Truth Stranger Than Fiction is a compelling noir mystery in the tradition of Robert Parker and Raymond Chandler.
"Very thought-provoking and engaging mystery with deeper implications, all wrapped up in humor and action. Highly entertaining read (4.5 stars)." — The Portsmouth Review
Buy Print | Kindle | NOOK | Google Play | iBooks
Excerpt from A Truth Stranger Than Fiction
We passed the slot machines, and the craps and roulette tables, before we reached the blackjack tables. If Svetlana was in the casino, this is where she'd be. We strode past the tables, studying the players at each one. There were lots of men in bowling shirts smoking cheap cigars, and women in risqué blouses drinking white wine, but nobody who even remotely resembled Svetlana.
"Not here, huh?" Kelsey said.
"No."
"I bet she'll know."
A cocktail waitress approached with a tray of drinks. She was a middle-aged blonde with aftermarket features and a hypnotic sashay that wasn't learned at Wellesley.
"Good idea." I pulled out a $20 bill and held it up to the waitress.
"Oh, hon," she said, "can I get you on the way back?"
"We don't need drinks." I tossed the bill on the tray. "I'm looking for a friend. Ukrainian woman. Tall, trim, exotic looking. She's a special guest of the hotel, and she plays a lot of blackjack."
"Oh, yes…I know who you're talking about." She pointed at a room across the casino floor. "The high rollers lounge. Can't miss her."
"Thank you."
We crossed the floor, and as Kelsey and I went inside, I ignored the fact that the other men were in suits, a few even in dinner jackets. Meanwhile, I looked like a character out of a Jack London novel. A throng of people—mostly men—surrounded the center table, and were concentrated around one seat in particular. Although I couldn't see the person, I already knew who it was. Tugging on Kelsey's arm, I pardoned my way to the front and stood at the side of the blackjack table with an unobstructed view of the scene.
Svetlana Krüsh, in a little black dress, sat facing the dealer, while elegant, sour-faced women stood in the back, clutching cocktails and looking daggers at her. On the green baize in front of Svetlana was a small city of chips, a red drink in a martini glass, and an iPhone. She was staring down the dealer. I didn't envy him; as a chess grandmaster with the eyes of a jungle predator, she had the most formidable stare I'd ever seen. One of her cards was face-down, and the second was the Seven of Clubs. She tapped the baize with a fire engine red fingernail, the dealer placed the Seven of Diamonds in front of her, and she made a tiny waving motion over her cards. The dealer continued past her, and when the cards were all revealed, Svetlana had three sevens and won the hand.
There were two things I knew about blackjack: that the goal was to get to 21, and that Svetlana Krüsh had the game down to an evil art.
Her hair was down, grazing her smooth shoulders. I admired her regal posture, her graceful neck and lissome hands—once again marveling at how I ever got anything done working with her. Svetlana was one of those rare women so stunning and brilliant, she excited the very air molecules around her.
Buy Print | Kindle | NOOK | Google Play | iBooks
Where does the title A Truth Stranger Than Fiction come from?
When you read the novel, you'll see that the moon plays a part in the story, so at first I was playing with titles that had "moon" in the title. However, eventually I realized that I was most interested in the contrast between truth and fiction and the believability of events, and I remembered a quote by Mark Twain:
"Truth is stranger than fiction, but it is because Fiction is obliged to stick to possibilities. Truth isn't."
What did you do differently in marketing this Dakota Stevens mystery compared to the previous two books?
The major difference this time around is that I really stepped up the publicity, doing about two dozen radio and print interviews in a month and a half.
I also wrote, directed and edited a book trailer for A Truth Stranger Than Fiction:
Is there any connection between the story in the novel and real life?
Absolutely. The main plot of the mystery is based on considerable scientific research. Whenever I can, I like to write in keeping with Aristotle's maxim that "probable impossibilities are to be preferred to improbable possibilities." If you'd like to learn more about the plot of the novel, and you don't mind spoilers, check out this blog entry I wrote.
Buy Print | Kindle | NOOK | Google Play | iBooks
* Footnoote: The cover of A Truth Stranger Than Fiction was designed by Lisa DeSpain, and the photo used on the cover, "MacBook Pro backlit keyboard," is by photographer Remko van Dokkum on Flickr.