About The Perfect Triple Threat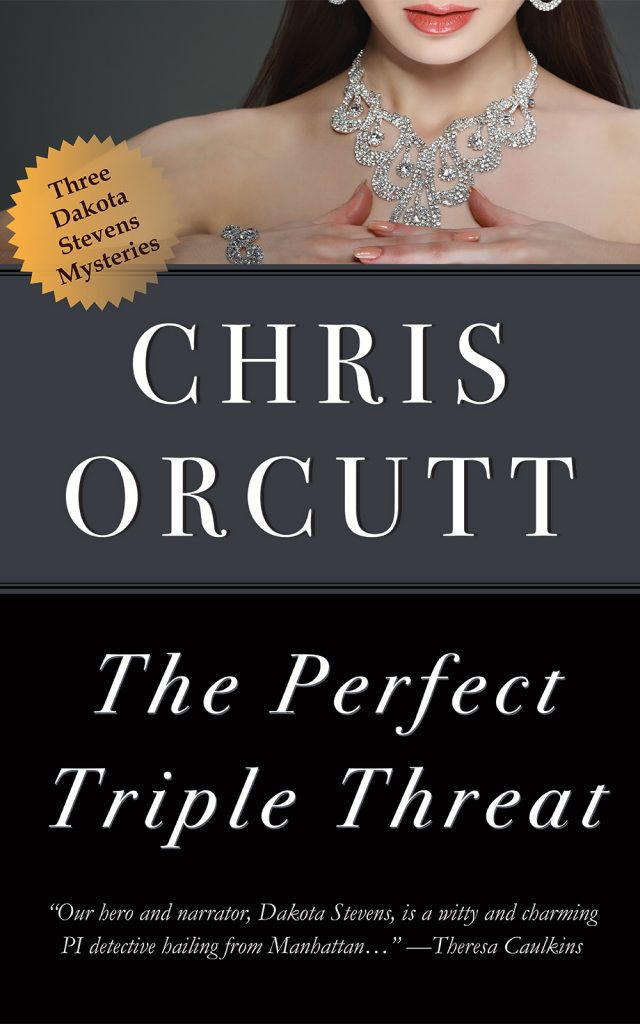 THEY'RE BACK. Dakota Stevens, the tough, wisecracking New York private eye, and his "Watson"—brilliant chess grandmaster Svetlana Krüsh.
The Perfect Triple Threat, the 4th installment in the critically acclaimed Dakota Stevens Mystery Series by Chris Orcutt, features three novella-length mysteries that occur before or between the novels.
In this mystery trilogy, Manhattan PI Dakota Stevens and his "Watson" Svetlana Krüsh solve cases in the Green Mountains of Vermont; Dutchess County, New York; and the mean and glamorous streets of L.A., tangling with chainsaw artists, seven-foot tall Native Americans, motorcycle gangs, ex-cons, crooked cops, nude celebrities, and Chinese gangsters.
"The Adventure of the Babysitting Detectives": While caring for a friend's boys over Columbus Day weekend, besides learning that childcare is not easy, Dakota and Svetlana find a number of mysterious items in the woods and uncover a conspiracy.
"The Mystery of the Vanishing Greenskeeper": A number of bizarre incidents at a Millbrook area golf course, culminating in the disappearance of the head greenskeeper, prompts the club's managing pro to call in Dakota to investigate.
"The Case of the Fake Reality TV Show": A Hollywood studio exec's daughter is arrested for an armed jewel heist, but she claims it was only the pilot of a new reality TV series. Trouble is, her fellow cast members and the producers are gone and can't corroborate her story. Dakota and Svetlana must team up with the head of studio security, sexy Barb Soames, to prove the girl's innocence.
Buy Print | Kindle | NOOK | Google Play | iBooks
Excerpt from The Perfect Triple Threat
I rocked in the rocking chair, sipped my coffee and admired the panoply of reds, oranges, golds and russets on the distant mountainside. Across the yard, at the treeline where the boys had run into the woods, the breeze rustled the birches and poplars, raining down yellow leaves on the lawn. Every now and then the metal detectors beeped and squealed in the woods.
The glass door slid open behind me and Svetlana came out with a steaming mug of coffee. She was dressed in full autumn regalia: brown suede jacket, cream cashmere sweater, scarf, short tweed skirt, knee-high stockings and boots. She looked like a model in the fall fashion issue of Vogue. I whistled.
"Wow, nice outfit. But I'm a little worried about it."
"Worried? How?" She cupped her hands around the mug and blew.
"I'm worried we're going to walk into some general store today," I said, "where a bunch of old timers are sitting around a cracker barrel, and you're going to give them all heart attacks."
"That would be unfortunate."
With a smirk, she sat in the rocking chair next to mine, pinched her knees together and sipped her coffee.
"What is a cracker barrel anyway?" she asked.
"Beats me. A barrel of crackers maybe?"
"Who would eat a barrel of crackers? That cannot be right." She scanned the meadow and the hillside down to the trees. "Where are our young charges?"
"In the woods, finding arrows," I said. "How did your chess lesson with them go last night?"
"Quite well, I think," she said. "Although neither shows much interest in chess. They seem to prefer video games and outdoor sports."
"Yeah, about the chess—I think they're only doing it because they're hot for teacher."
She blinked several times. "Excuse me…'hot for teacher'?"
"The Van Halen song 'Hot For Teacher'? The 1984 album?"
She closed her eyes and shrugged.
"I forget—you didn't grow up here," I said. "You didn't have time for rock bands and songs about guys attracted to their female teachers. You were too busy playing chess and learning how to be a young Commie."
"Well, 'hot for teacher' or not," she said, "they are adorable—bright, curious and good-looking. And you know I loathe most children. Especially the ones their age."
"I know," I said.
A delicious breeze washed over us and floated down the hill, followed by a languorous moment of blissful peace and silence. It was one of those few moments that makes all the trouble of owning a property worthwhile, and I wished Ryan and Nina could be here to enjoy it.
Then, in the next instant, the quiescence was destroyed by a piercing shriek from the trees. Birds scattered from the treetops.
"Oh my God!" James shouted. "Oh my God!"
Then Jack shrieked. Svetlana and I looked at each other.
"The joys of parenting," I said.
"Precisely," she said.
We put down our coffees and ran for the woods.
"Jack?! James?!" I shouted. "Where are you?"
"Over here!"
Buy Print | Kindle | NOOK | Google Play | iBooks
Why is The Perfect Triple Threat a collection of three novellas?
I love writing novels, but they require triathlon-level endurance, and if they're mysteries, they need to be based on big ideas. This translates to a lot disparate parts that all have to fit together, and it's this "fitting together" stuff that is the most exhausting part of the mystery-writing process. Novellas can be based on smaller ideas, smaller mysteries, and yet they allow for more atmosphere, more description, and deeper characterization.
Some of my favorite works of fiction are novellas or long stories including John Steinbeck's Of Mice and Men, Phillip Roth's Goodbye, Columbus, and Stephen King's Rita Hayworth and the Shawshank Redemption. In the mystery realm, I have adored Doyle's Sherlock Holmes stories and novels—especially the longer stories "The Naval Treaty" and "A Scandal in Bohemia."

How are the stories in The Perfect Triple Threat different from those of the first three novels?
The major difference is that the three cases are "smaller" and less intricate than the ones in the novels. I meant for these cases to be examples of the ones that Dakota and Svetlana typically get between their "big" cases.

What's next on the horizon for Dakota and Svetlana?
I have admired Sir Arthur Conan Doyle's Sherlock Holmes stories since I was a young boy. In fact, those stories are what inspired me to start writing the adventures of Dakota and Svetlana almost 15 years ago. I plan to write a collection of mystery short stories about Dakota and Svetlana in the vein of Holmes and Watson. This is likely to take quite some time, especially since I want every story in the collection to be a polished gem.
Buy Print | Kindle | NOOK | Google Play | iBooks

* Footnoote: The cover of The Perfect Triple Threat was designed by Lisa DeSpain, and the original design for the Dakota Stevens Mystery Series covers is by Elisabeth Pinio. The photo on the cover, "Wedding Decoration" by Pandorabox, is used under license from Shutterstock.com.