About The Rich Are Different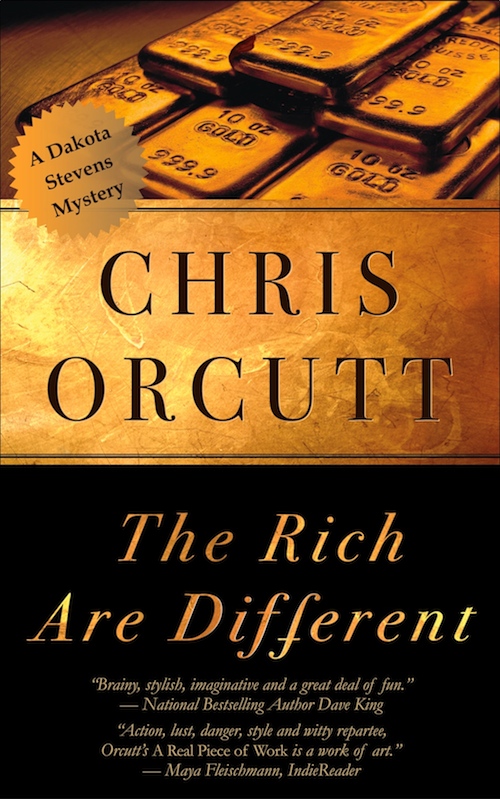 The highly-anticipated mystery sequel…
The Rich Are Different, the 2nd novel in the Dakota Stevens Mystery Series by Chris Orcutt, explores the rarefied world of a Long Island heiress and her murdered brother who owned an Old West resort in Montana. To hunt down the man's killer, Dakota and his associate Svetlana Krüsh must go undercover as actors in a make-believe mining town straight out of 1885.
This much-anticipated sequel to A Real Piece of Work picks up a few months after that difficult case. Dakota Stevens is depressed. He's lost his detecting mojo and hasn't taken a case since A Real Piece of Work. Can he get his mojo back and find the killer?
Like bullets from a Gatling gun, the suspects come fast and furious: eccentric heiresses, greedy CEOs, catty thespians, sexy henchwomen, angry Native Americans, mysterious mobsters, menacing mercenaries, kinky housewives and contract killers.
It's a classic case of East meets West as Dakota and Svetlana follow a trail of clues that takes the reader from the sophisticated setting of The Great Gatsby to the forbidding land of Pale Rider.
Buy Print | Kindle | NOOK | Google Play | iBooks
Excerpt from The Rich Are Different
During the long drive to Yellowstone, Svetlana kept a perfect two-car buffer between Heather's and ours. Once inside the park, however, an RV the size of a blue whale somehow slipped between us, and then we were stopped by a bear-jam and waited half an hour for it to clear. We lost Heather briefly on the Grand Loop Road and caught up to her just as she parked in front of the Old Faithful Inn. She carried her overnight bag to the geyser viewing area and sat on a bench. I got out while Svetlana parked, and we met at the hotel entrance. The evening sun was dipping beneath the treetops.
"Looks like she's here for the night," I said. "See if you can get us rooms, and meet me on the observation balcony."
"We'll meet in the restaurant," she said. "You're buying me dinner."
In the restaurant, I got a corner table with a view of the entrance, ordered shrimp cocktail, and waited. At first I suffered the pitying stares of couples who thought I was dining alone. However, I was amply vindicated when Svetlana sashayed in and every man in the place choked on his bison burger. I knew that catwalk gait of hers well. It was the same one she used whenever she left chess tournaments with the championship purse.
"Well?" I said.
She sat down, spread the napkin on her lap and ate a shrimp before tossing a plastic room key on the table.
"What'd you do, mug them?" I said.
"I wandered into the staff locker room. One of the housekeepers left her locker open, and she had two, so—"
"You borrowed one," I said.
"Correct. And now…"
She snapped her fingers and the waiter materialized at her elbow.
"I will have a Virgin Mary and the prime rib," she said. "Rare. Simply coax the cow into a warm room."
"Very good, miss."
"Miss." She rested her chin on her fist. "Did you hear that Dakota? Such a smart young man. Make sure you tip him well."
I strummed the room key across my fingers like a guitar pick. "Have I ever told you how much I love your situational ethics?"
"No, but you may fawn over me while I eat these shrimp."
Buy Print | Kindle | NOOK | Google Play | iBooks
Where did you get the idea for The Rich Are Different?
The original manuscript that became this novel grew out of a trip I took to Montana in 2002. Besides seeing Yellowstone National Park and the vast Montana plains and wilderness, I visited several ghost towns, including Bannack, and Virginia City & Nevada City, MT. I saw what tourist attractions these sites can be, and I thought, "Wouldn't it be cool if some rich person created a modern-day Old West park?" I imagined such a place, staffed by actors, with a town and its own railroad, and then I imagined the owner of the place being murdered and his sister being an heiress on Long Island.
I decided I wanted to write a mystery novel that also paid homage to two works I deeply admire: Westerns and The Great Gatsby. I wanted to contrast the East with the West in such a way that would make readers look at both places a little differently. I think I've accomplished that while also adding, in a modest way, to both the detective and Western genres.

With so many 5-star reviews, was A Real Piece of Work a tough act to follow?
Initially I had concerns about The Rich Are Different following such a big success because I kept thinking the novel had to be "even bigger" than the first. Then, through some wise counsel from my wife and friends, I realized that it wasn't about trying to write a second, "even better" A Real Piece of Work; it was about letting The Rich Are Different be the unique novel it was meant to be.
I'm hoping for the Dakota books to become an established series, and if you look at other authors' detective series, every case is a little different. The Rich Are Different holds up as a sequel to A Real Piece of Work, but it also stands on its own as a more traditional PI case than in the first book.
In fact, in some ways The Rich Are Different is superior to the first book. It's darker and emotionally deeper. Dakota is battle-scarred and less cavalier. He and Svetlana find themselves in several precarious situations that push them closer together. And the mystery is just as baffling—maybe even more so.
Buy Print | Kindle | NOOK | Google Play | iBooks

Footnote: The cover of The Rich Are Different was designed by Elisabeth Pinio, and the photo used on the cover, "gold-bars-3.jpg," is from the website "blog.heartland.org" and is believed to be in the public domain.